At the Kent Federation of Young Farmers, Annual General Meeting, Lucy Hegarty, Show Manager presented three Young Farmers with Awards.  The Hooson Award is presented to a Kent student who is going to undertake studies in the agricultural, horticultural or the rural sector.  The Education and Farming Committee received eight applications from young people living in Kent.  The judges spent time looking at all the applications but it was Jack Davis, a young farmer from Cobtree that impressed the judges. Jack is currently studying an Agri-Business Degree at Harper Adams University.
Lucy Heg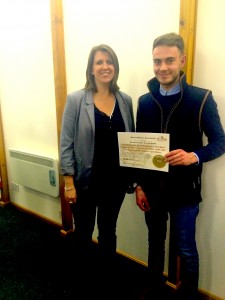 arty who presented Jack with his certificate and cheque for £500 was pleased that he was looking to use the prize as a way to help fund his newly created small business.
Jack explained, "After I graduate, I hope to be successful in gaining a place on the graduate scheme with Strutt and Parker or Savills and train as an Agricultural Consultant. I would also like to pursue my current business ventures when I finish my education. I have just started a herd of pedigree cattle, and I am hoping to purchase some sheep this year with a future goal of  starting a premium meats enterprise."
The other award of the evening is the Lady Astor Award given to a Kent Young Farmer who has shown outstanding dedication and has been nominated by their Club Leader.  Lucy was delighted to say that for the first time this award was going to two young farmers.  The heartfelt applications from Brockhill School YFC Leader, praised both individuals equally and the Education and Farming Committee believed Aaron May and Abbi Phillips, both aged 17 should be recognised for their hard work throughout their year at the club. 
Aaron is current Chairman of Brockhill Young Farmers Committee and is an inspiring and fair leader to the other members. Aaron works extremely hard around his school week, to maintain the health and care of the animals on the farm, and is always present for veterinary or other medical appointments. Aaron is also very active in the school's Farming Programme and enjoys talking to the children that come on Primary visits to the farm.  His passion and enthusiasm about animals and where food comes from often inspires their young visitors.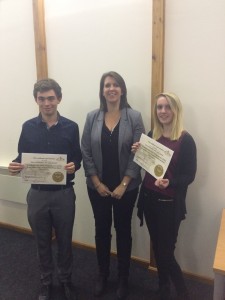 Aaron is very proactive and often takes the lead on day to day running of the school  farm, feed levels, animal movements and organising and presenting of events; many of which are shared with YFC members as well as the public.  Not only does he do all of this, he has also been involved in raising money for charities such as the Wallace and Gromit children's charity by organising a bake sale.
Abbi is Vice Chairman at Brockhill YFC and has been instrumental in forming teams to ensure that morning and evening feeding takes place whatever the weather. At times, particularly in bad weather conditions, Abbi has been the sole person present and is happy to complete the tasks come what may. Abbi has a particular love of cattle and is a key part of the Cattle Show Team, at Brockhill.  The committee were impressed with her commitment to the club, her love of animals and her dedication to the 80 young farmers at Brockhill.
Lucy Hegarty presented both young farmers with a certificate and cheques for £250.